Autonomous Commerce Can Increase Sales and Boost Morale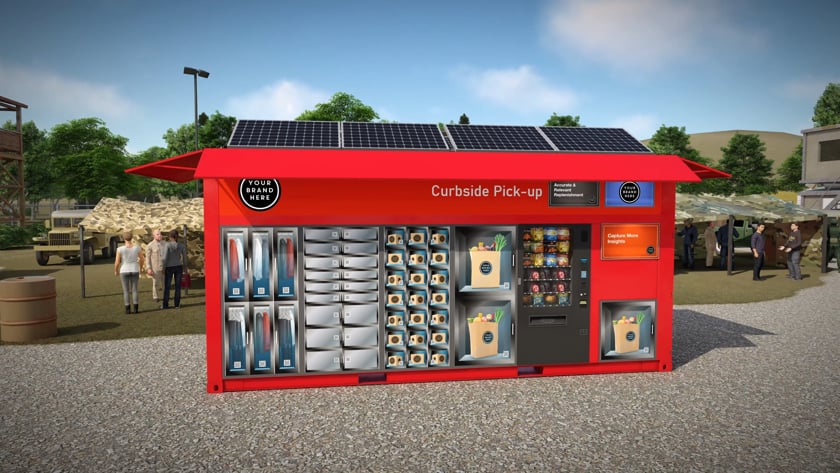 Now Playing: Cartable
Rapidly deploy your store to your soldiers anytime and anywhere. Autonomous commerce can increase sales, the volume of inventory tracked and provided to soldiers, as well as boost morale.
Boost troops moral with convenient access to online purchases, delivery, and on-demand purchasing of needed supplies, protective gear, ammunition, and even Homegoods in remote locations.
Troops in training or deployed can visit the website and shop by mobile Cartable locations near their base or deployment. Notify soldiers when and where their orders will be delivered, message replenishment alerts, and track consumption.
Soldiers can pay via Amazon Pay and track their orders. They can quickly scan electronic shelf labels and purchase up-sells and cross-sells at the location, as well as provide feedback to be added to conversion insights per segment.

Rapidly Deploy Convenience
Cartable will streamline material movement in self-sustained, un-manned, easily portable platforms to military bases, and forward deployments.
Enable online and offline ordering and pick-up, and a convenient 24×7 shopping experience.
Collect actionable analytics to test and deliver products and services to soldiers and their families with both a physical and digital platform.
Leverage nimble and autonomous digital and physical platforms to test, store, and deliver services in a new sales channel.
Supply tools and parts with an automated tracking mechanism.
Provide trackable quantities of ammunition and other controlled materials.
Enhance commissary and exchange services with greater convenience through more locations, 24×7 operations, portability, and reduced costs.
Cartable enables broader distribution with more points of consumption and rapid deployment.
Autonomous Commerce Anywhere
Regardless of location, Cartable can help the Military provide delivery services and commerce to troops in remote areas, on base, and in training. Sell, move, and test inventory irrespective of location.
Easy to navigate mobile and checkout user interface.
Engage soldiers with merchandising.
Mobile remote shop locator.
Checkout with Amazon Pay.
Geolocation delivery and replenishment alerts.
Amazon locker pick-up.
Order tracking.
Orders facilitated autonomously at popup shop or delivery truck.
Customers can complete feedback and surveys online or on location.
Electronic shelf labels.
Easy entry enables broader distribution with more points of consumption.
Offer Both On and Offline Ordering
Transform your supply chain with a moveable autonomous store.
https://vimeo.com/384370492https://vimeo.com/384634677https://vimeo.com/384637225 Get CartableTM Previous Next CX20 Get CartableTM The CX20 is a 20ft. Popup Autonomous Retail as a Service solution that enables businesses and organizations …